Nicholas Lapucci vince le due manche del Campionato Europeo EMX250, Hakon Osterhagen domina la 125.
Comunicato: Maddii Racing team press
Sul bellissimo tracciato di Matterley Basin è andata in scena la prima prova del Campionato Europeo 250 e 125.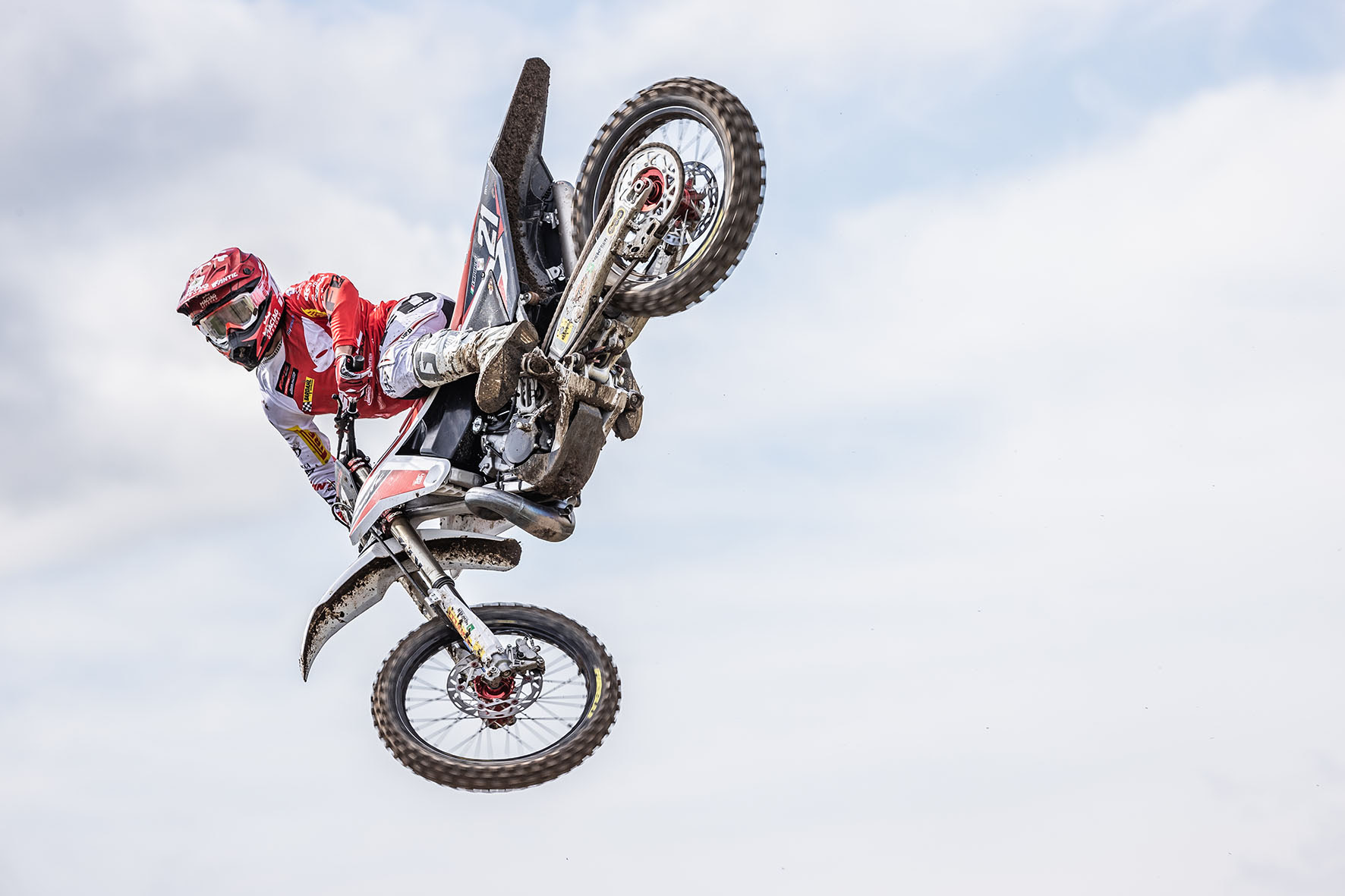 Nelle prove ufficiali Nicholas Lapucci è fenomenale ed insieme alla sua Fantic 250 XX ha fatto segnare la miglior prestazione del suo gruppo e la pole position di giornata, ottima prestazione per Max Spies che chiude le sue prove al settimo posto. Federico Tuani 15° Al via della prima manche Nicholas non riesce ad avere una buona uscita dal cancello a causa di un contatto con un avversario, Lapucci grazie ad un primo giro incredibile si è portato subito al comando gestendo la gara in maniera esemplare andando a vincere con un discreto margine. Spies dopo una partenza non facile ha concluso 16°, Tuani ha chiuso ad un passo dalla zona punti.
La seconda manche ha visto protagonista ancora una volta il pilota toscano, Lapucci è riuscito a prendere la leadership della gara fin dalle prime battute, Nicholas nella prima parte ha amministrato cercando di non commettere errori, negli ultimi giri è riuscito ha prendere vantaggio andando a vincere anche gara 2. Spies dopo un'ottima partenza ha tenuto un buon ritmo che gli ha permesso di portarsi a casa il settimo posto. Tuani chiude in 20° piazza. Nicholas Lapucci si porta a casa la tabella rossa di leader di campionato.
Nel campionato Europeo 125 Hakon Osterhagen è stato il più veloce in ogni entrata in pista trovandosi a suo agio fin dalle prove libere. Il giovane pilota Norvegese ha conquistato la pole position. Hakon in gara 1 si porta in testa dopo poche curve dal via e grazie ad un ritmo insostenibile per i suoi avversari ha vinto per distacco.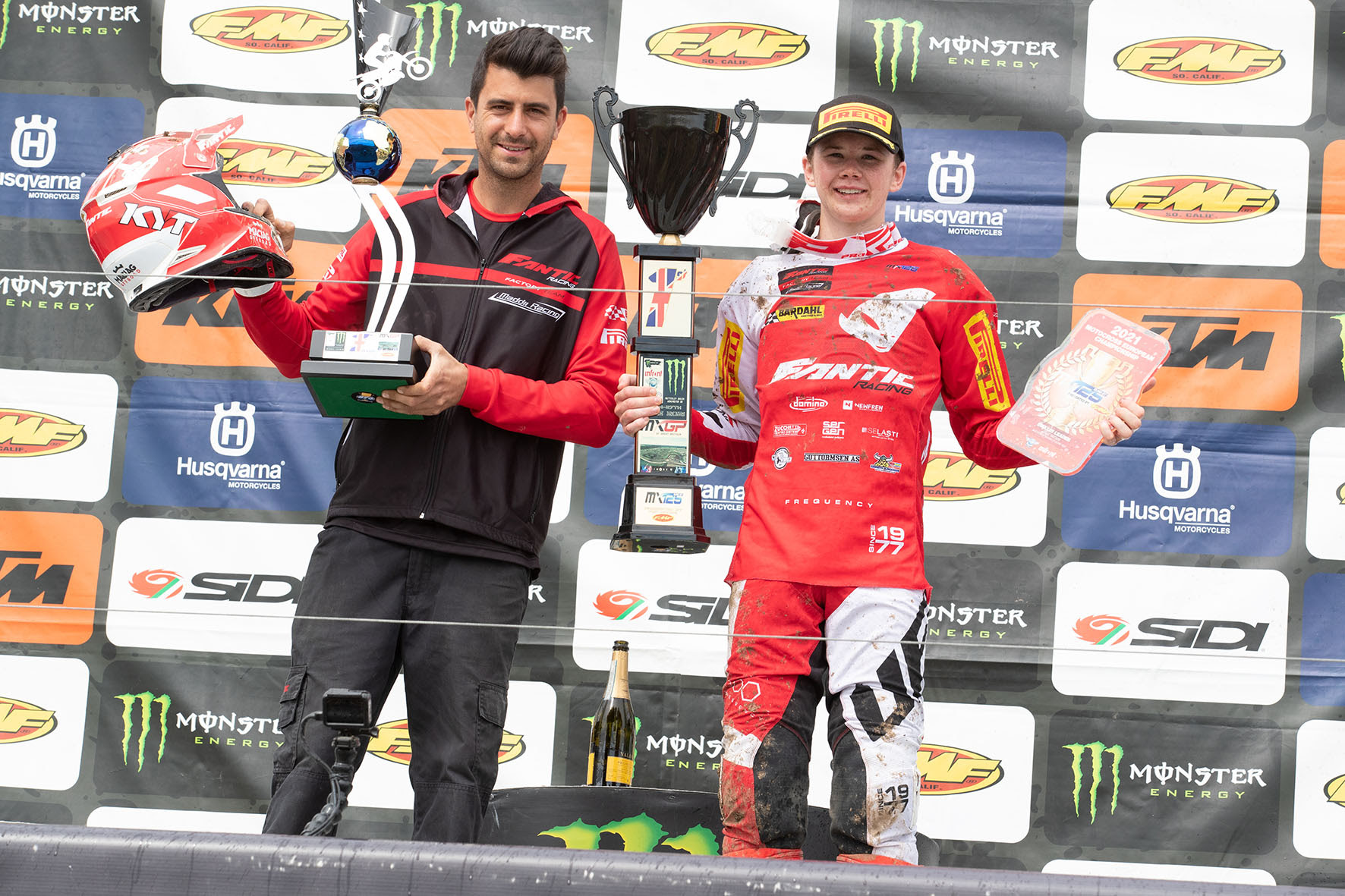 In gara 2 Osterhagen è partito molto bene e dopo pochi giri quando si trovava in vantaggio è scivolato prima della sezione ritmica perdendo la testa della corsa, Hakon con una furibonda rimonta si è riportato tra i primi e grazie a dei bellissimi sorpassi si è portato al comando, purtroppo la gara è stata interrotta a causa della bandiera rossa per poter prestare soccorso ad un altro pilota. Hakon nel giro precedente si trovava in terza posizione ma ha comunque vinto la gara ed è la nuova tabella rossa.
Prossimo appuntamento tra solo una settimana sulla storica pista di Maggiora.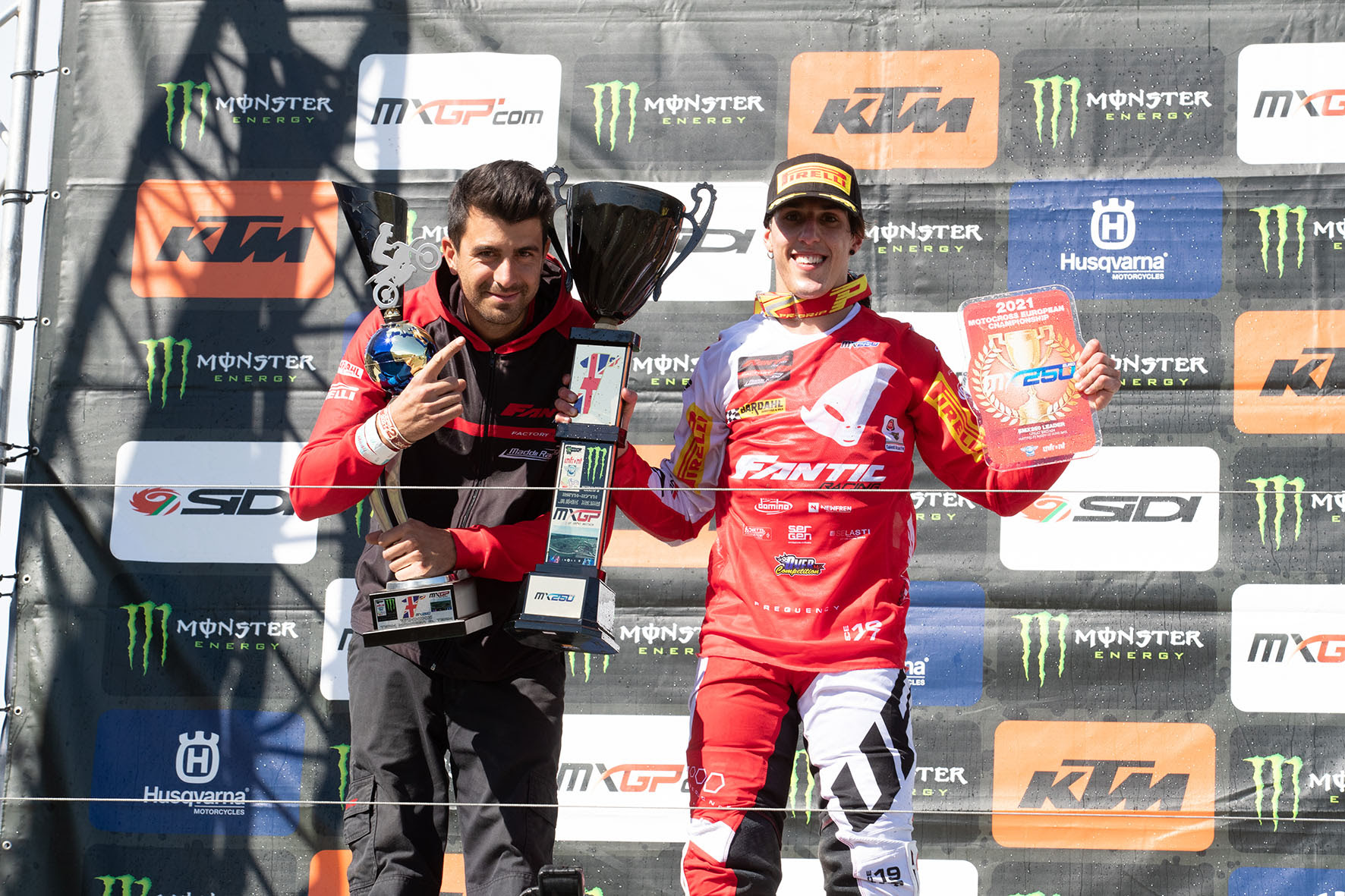 Marco Maddii commenta così la gara:"Questa è una vittoria storica per Fantic, sia Nicholas che Hakon sono stati fantastici, non ci si poteva immagine un inizio di campionato migliore. Sappiamo che la strada è ancora lunga e cercheremo di lavorare al meglio per poter puntare ad altre giornate come questa. Sono soddisfatto anche della prestazione di Spies, peccato per la brutta partenza di gara 1, anche Federico è riuscito a entrare nella top 20."
ENGLISH VERSION
Nicholas Lapucci won both motos of the EMX250 European Championship, Hakon Osterhagen dominated the 125
Memorable double victory for Fantic Racing
The stunning track of Matterley Basin hosted the first round of the EMX250 and EMX125.
Nicholas Lapucci was phenomenal in the qualifying practice, where he set the fastest time with his 250XX Fantic machinery and conquered the pole position. Max Spies' performance was excellent too, as he classified seventh. Federico Tuani was 15th.
Despite the start of the first heat was not so promising for Nicholas, due to a contact with a rival, Lapucci took the lead after a first solid lap. The rider opened a good margin on rivals and managed the race pretty well; his model performance granted him the victory. Tough start for Spies, who finished 16th however. Tuani slightly missed the point zone.
The Tuscan rider was once again the star also in the second moto, where he took the lead since the very beginning of the session. Nicholas managed the first part of the race wisely, trying not to make any mistake, while in the second one he decided to pull away from rivals and eventually won also race2. Solid start and great race pace for Spies, who conquered the seventh spot. Tuani classified 20th.
Nicholas Lapucci, current series leader, came home with the red plate.
Hakon Osterhagen was the fastest in the 125 European Championship.
The feeling with the track was great since the free practice, and as a matter of fact, the young Norwegian rider conquered the pole position.
Race1 saw Hakon moving to the head of the pack right after the first corners. His race pace was so out of reach for rivals that granted him the victory.
Osterhagen did well also at the start of race2, but after pulling away at the start he slipped and lost control of the race. Hakon worked his way up and ferociously recovered ground till when he was the race leader once again. Unfortunately, the race was red flagged to aid an injured rider. Hakon was holding the third spot before the race was suspended, so he still managed to win the race and come home with the red plate.
Next appointment will be in just one week at the famous track of Maggiora.
Marco Maddii commented on the race: "This is a memorable victory for Fantic. Both Nicholas and Hakon were fantastic and we could have never imagined such an awesome kick off of the championship. It's still a long road but we'll do the best we can to achieve more results like this one. I'm also happy with Spies' performance, too bad for the unlucky start of race1. Federico too managed to reach the top 20".
Classifica di giornata classe EMX2 Campioanto Europeo:
1) Nicholas LAPUCCI #211 – Fantic Factory Team Maddii
2) Kevin Horgmo #24 – GasGas
3) Cornelius Tondell #302 – Yamaha
10) Maximilian Spies #7 – Fantic Factory Team Maddii
25) Federico Tuani #2 – Fantic Factory Team Maddii
Campionato classe EMX2:
1) Nicholas LAPUCCI #211 – Fantic Factory Team Maddii
2) Kevin Horgmo #24 – GasGas
3) Cornelius Tondell #302 – Yamaha
10) Maximilian Spies #7 – Fantic Factory Team Maddii
25) Federico Tuani #2 – Fantic Factory Team Maddii
Classifica di giornata classe 125 Campioanto Europeo:
1) Hakon Osterhagen #12 – Fantic Factory Team Maddii
2) Ferruccio Zanchi #73 – Yamaha
3) Bruce Bobby #579 – GasGas
Campionato classe 125:
1) Hakon Osterhagen #12 – Fantic Factory Team Maddii
2) Ferruccio Zanchi #73 – Yamaha
3) Bruce Bobby #579 – GasGas