Sulla sabbia di Lommel, il mondiale motocross disputa il quattordicesimo round stagionale. In MX2, due solide manche consegnano ad Adamo un altro risultato da 'top 10'. In MXGP, Forato a 'punti' in entrambe le frazioni nonostante una condizione fisica non ottimale. In EMX250, Tuani si classifica undicesimo di giornata; Ruffini si ferma alle cronometrate.
Testo by Max Serafino – Photo by Davide Messora
Per il quattordicesimo round in calendario, il FIM Motocross World Championship fa tappa in Belgio presso il tracciato di Lommel; tracciato che per le sue caratteristiche, viene reputato come uno dei più difficili al mondo. Ciò che lo rende così impegnativo per piloti e mezzi, è la profonda sabbia che richiede un'ottima preparazione atletica, una buona tecnica di guida ed un mezzo performante. A far compagnia alle classi del mondiale, ci sono anche i ragazzi del Campionato EMX250, impegnati nel settimo round stagionale.
L'SM Action GasGas Racing Team Yuasa Battery si presenta così al completo con Andrea Adamo #80 (MX2), Alberto Forato #303 (MXGP), Federico Tuani #3 e Luca Ruffini #669, entrambi nella EMX250.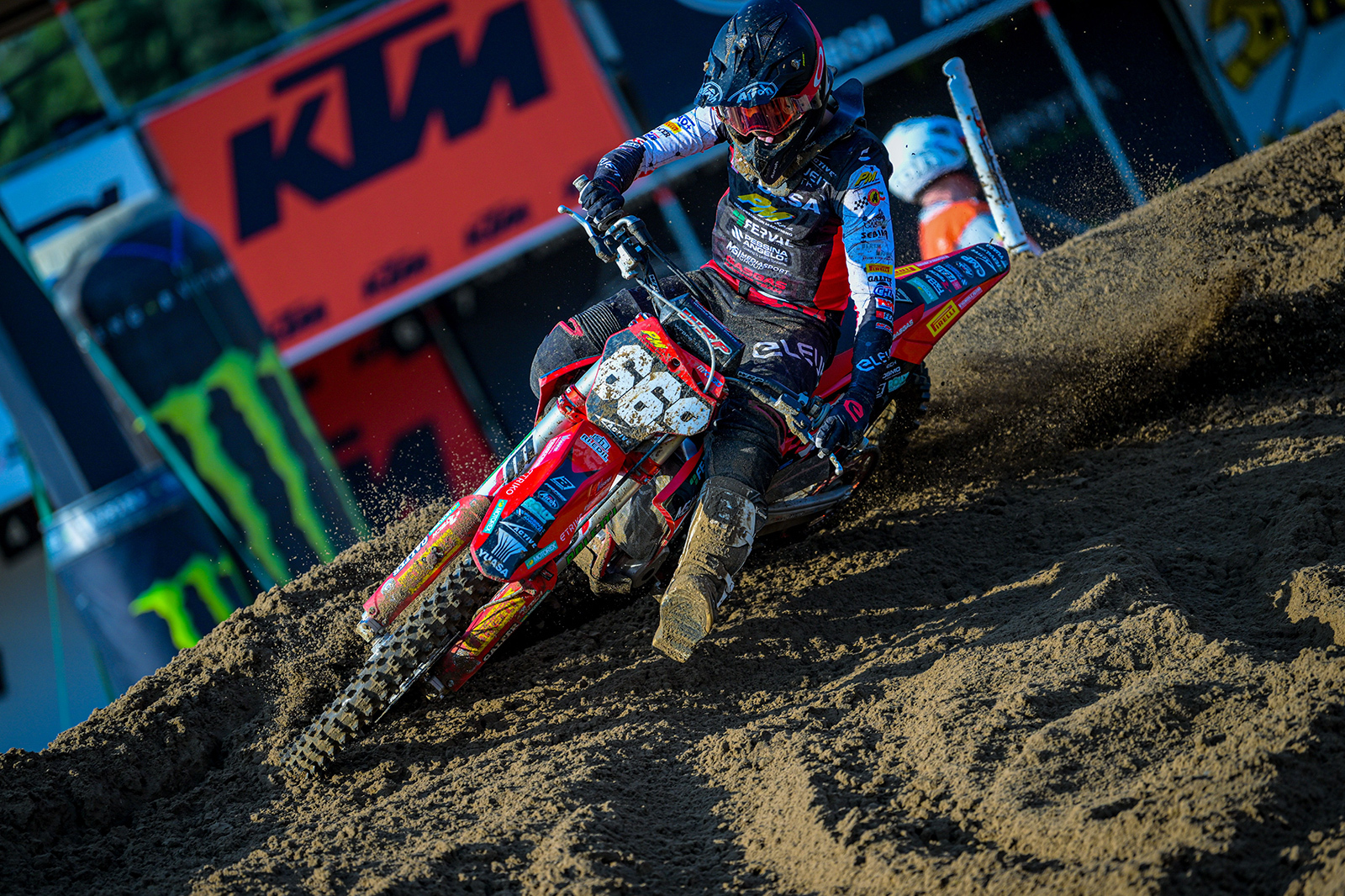 Il sabato mattina i primi a scendere in pista sono i ragazzi della EMX250. Entrambi assegnati al gruppo 1, i ragazzi dell' SM Action GasGas Racing Team Yuasa Battery si difendono bene. Al termine della sessione di libere, Federico chiude 7°; Luca 15°. Nelle seguenti cronometrate però, solo Federico riesce a ripetersi realizzando un buon giro veloce che gli consegna l'8° tempo e la qualifica alla gara. Luca invece, non va oltre il 22° tempo e termina anticipatamente il suo weekend.
Nella prima manche, Tuani parte bene e si posiziona subito nel gruppo di testa ma con il trascorrere delle tornate, viene riassorbito dal gruppo. Al termine dei quattordici giri disputati, completa la corsa ottenendo il 15° posto dopo aver occupato la 12a posizione sino a tre giri dal termine. Nella seconda e conclusiva manche della domenica mattina, Federico parte nuovamente bene ed è subito a ridosso della 'top 5'. Nei giri successivi il toscano cede terreno sino a scivolare fuori dalla 'top 10' ma verso metà gara, recupera alcune posizioni in classifica sino a transitare 10° sotto la bandiera a scacchi. Con il punteggio acquisito nelle due manche, Federico si classifica 11° di giornata; in classifica generale, recupera due posizioni e si ritrova 22°.
In MX2, il sabato di Andrea inizia con un 15° tempo nella sessione di libere. Nelle seguenti cronometrate, il siciliano migliora leggermente chiudendo 12°. Nella manche di qualifica, Adamo è quasi perfetto in partenza e dopo la prima curva agguanta subito la 2a posizione. Trascorse alcune tornate, il pilota GasGas trova il suo ritmo e a fine manche, centra il 5° posto. Nelle due frazioni di gara, Andrea si conferma veloce e determinato mettendo in campo due solide prestazioni. L'ottavo posto di gara 1 dopo una lunga rimonta e il 6° posto in gara 2, consegnano al siciliano l'8°posto di giornata; in classifica generale Adamo ritorna ad occupare la 6a piazza.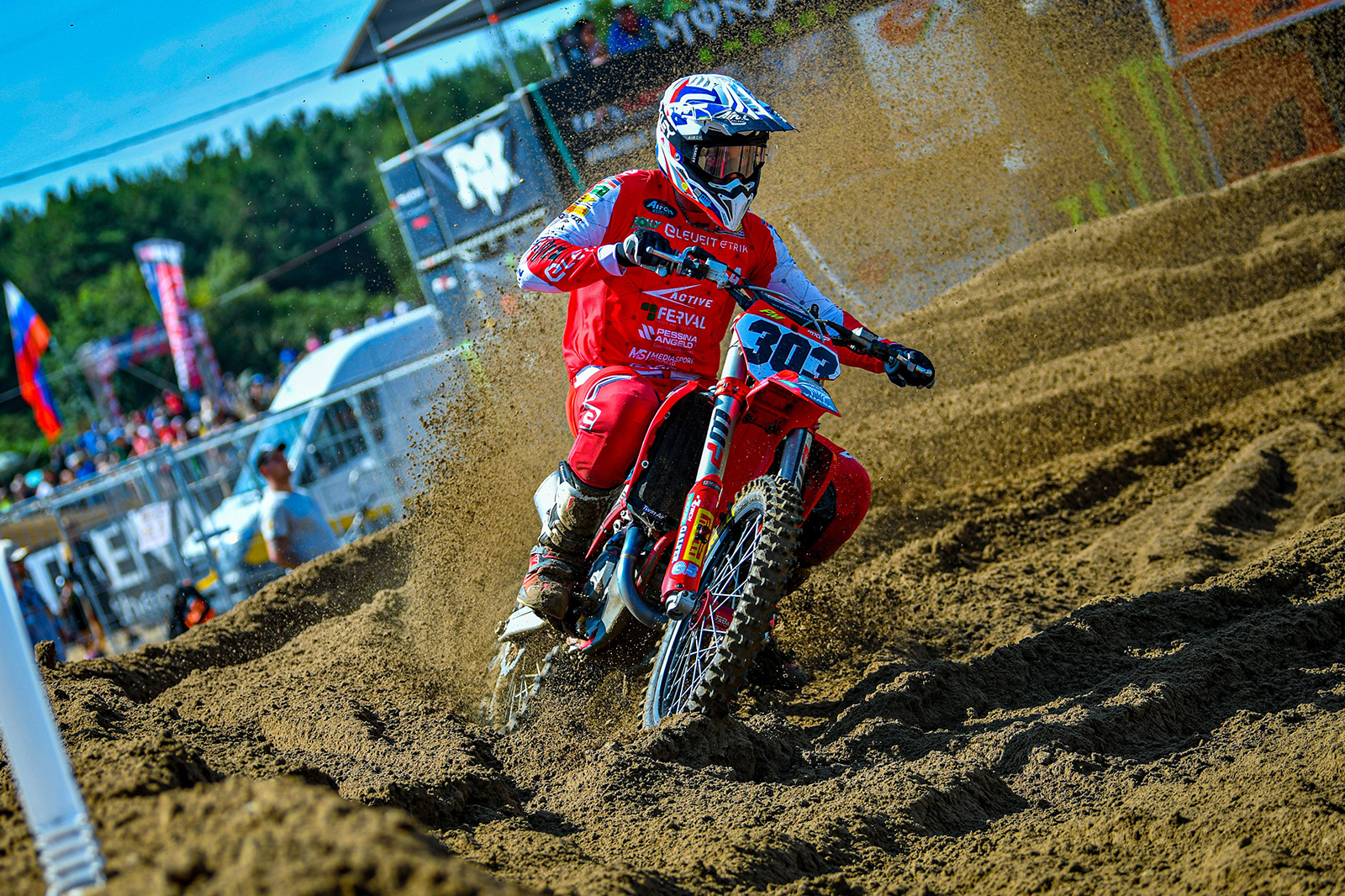 In MXGP, le prove libere vedono Alberto autore di un buona prestazione che lo colloca in 8a posizione. Al termine delle cronometrate, il veneto si conferma competitivo sulla profonda sabbia belga restando nella 'top 10' con il 9° posto assoluto. La manche di qualifica di Forato però, è fortemente condizionata da un errore nel corso della prima tornata che arretra il veneto di numerose posizione, dopo una discreta partenza all'interno della 'top 20'. In rimonta, Alberto chiude 19°. Domenica, nelle due manche, Alberto limita i danni . In rimonta e con una preparazione fisica ancora non al 'top', il veneto riesce sempre a portarsi in 'zona punti' ottenendo in entrambe le frazioni un 18° posto. Con i sei punti acquisiti, si ritrova 19° di giornata; in campionato, perde una posizione e scivola in 15a piazza.
Il quindicesimo round del FIM Motocross World Championship è fissato per il fine settimana del 6 e 7 agosto sul tracciato di Uddevalla, in Svezia. Anche per questo round, è prevista la presenza dei ragazzi della EMX250, che affronteranno l'ottavo appuntamento in calendario.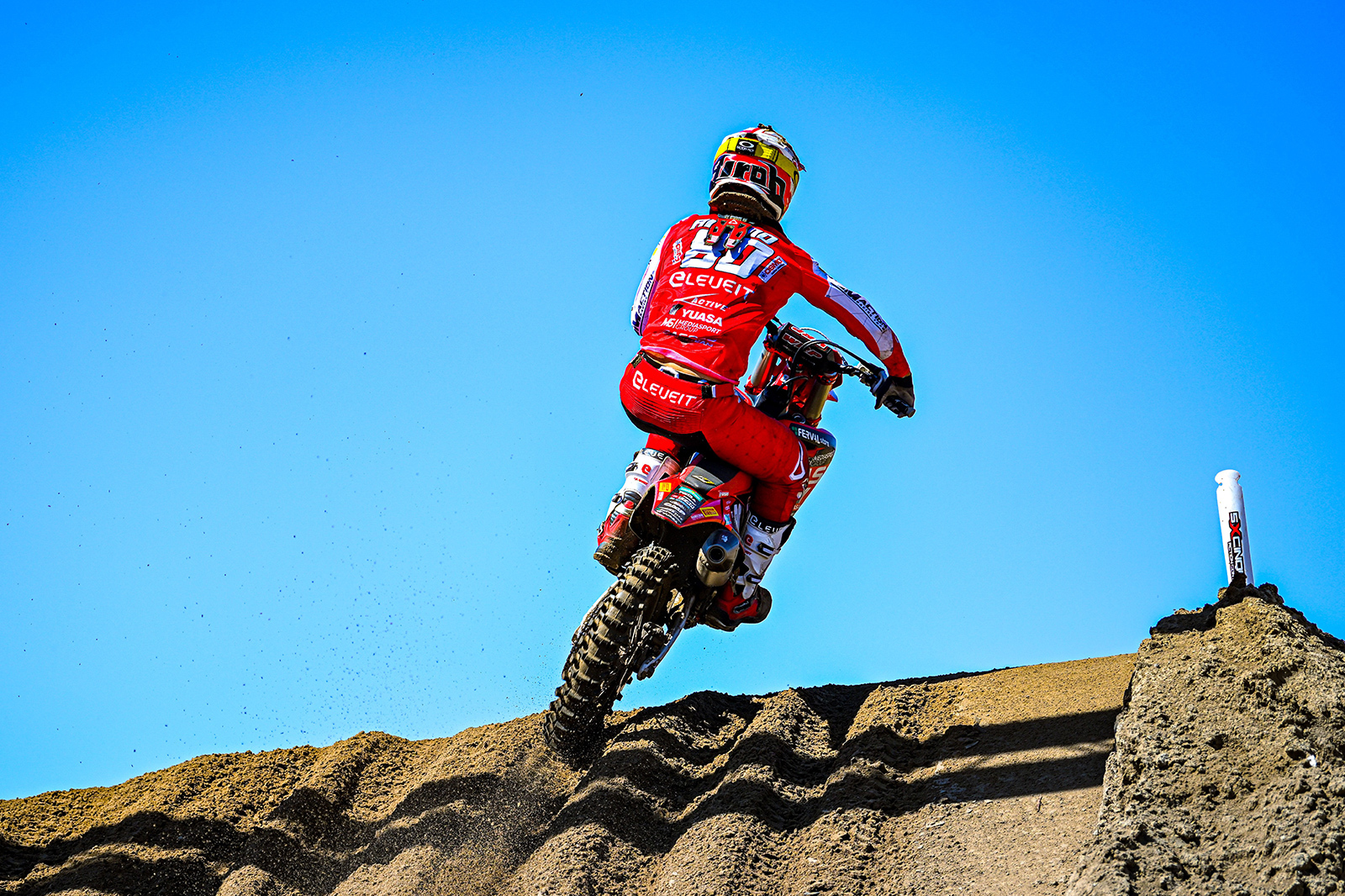 Andrea Adamo #80: "E' stata una bella gara. Sono contento perché sapevo che non sarebbe stato facile. Purtroppo in gara 1 un contatto al primo giro mi ha costretto a rimontare dall'ultima posizione. In gara 2 invece, ho avuto un buon ritmo ed ho chiuso 6°."
Alberto Forato #303: "Sicuramente non è stato uno dei miei migliori weekend. Sapevo che sarebbe stata dura ed infatti ho fatto fatica visto il mio recente infortunio e il poco allenamento alle spalle. Sabato sono caduto nella manche di qualifica e anche domenica, in gara, non sono mancati gli errori. Ora c'è una pausa di una settimana prima della prova in Svezia e vedrò di migliorare la mia preparazione."
Federico Tuani #3: "Questo fine settimana è andato molto bene. Nelle libere e nelle qualifiche ho fatto dei buoni tempi ed avevo un buon 'feeling' con la moto e con la pista. In gara 1 sono partito bene ma ho faticato a prendere un buon ritmo, chiudendo 15°. Peccato perché potevo fare sicuramente un risultato migliore. In gara 2 invece, dopo un'altra buona partenza ho deciso di subito il massimo per restare con i primi e sono giunto 10° al traguardo. Tutto sommato, un 11° posto nella sabbia di Lommel è un buon risultato. Sono contento dei risultati che stanno arrivando dopo il tanto lavoro fatto nel mese appena trascorso. Ringrazio il Team, la mia famiglia e Jacky Vimond."
ENGLISH VERSION
Lommel hosted the 14th round of the World Championship season. In MX2 Adamo had two solid races and he entered once again in the "top 10". In the MXGP Forato gained points in both races despite a not optimal physical shape. In the EMX250 Tuani finished 11th Overall, while Ruffini stopped its ride at Timed Practice.
FIM Motocross World Championship made its way to Belgium, at Lommel circuit, for the 14th round of the calendar. The track is considered one of the hardest in the world, regarding its characteristics. What makes it so challenging for the riders and the bikes is the deep sand of its surface, which requires excellent athletic preparation, good riding technique and a well performing bike. Next to the guys of the World Championship, the EMX250 Championship riders were there too for their 7th round of the season.
SM Action GasGas Racing Team Yuasa Battery deployed the whole squad: Andrea Adamo #80 (MX2), Alberto Forato #303 (MXGP), Federico Tuani #3 and Luca Ruffini #669 in the EMX250.
On Saturday morning, the first riders to go on track were the EMX250 ones. Both assigned to group 1, the SM Action GasGas Racing Team Yuasa Battery riders behaved well. At the end of Free Practice Federico was in P7 while Luca in P15. In the following Timed Practice, though, only Federico was able to repeat the performance as he finished in 8th place and qualified for the race. Luca, instead, did not make it better than the 22nd place and he finished beforehand his racing weekend.
In Race 1 Tuani had a good start and positioned in the leading group, but lap after lap he was re-absorbed by the group. At the end of the 14 laps-long race he finished 15th after that he was in P12 until 3 laps to go. In Race 2, on Sunday morning, Federico had a good start again, and he was close to the "top 5". In the following laps the rider from Tuscany had to give up a few places and went out of the "top 10", but in the middle of the race he managed to recover a few places and he passed in P10 by the checkered flag. With the result obtained in the races Federico ranked in 11th place Overall; in the General Classification, instead, he made up two places and he is now 22nd.
In the MX2, Andrea's Saturday started with the 15th fastest lap time in Free Practice. In the following Timed Practice the Sicilian had a little improvement and he finished in P12. In the Qualifying Race Adamo was almost perfect at the start and after turn 1 he made it to 2ndplace. After a few laps the GasGas rider found his pace and, at the end of the race, he finished in P5. In both races Andrea confirmed his speed and his determination, putting in some decent performances. The 8th position in Race 1 -after a long recovery, and the 6th position in Race 2 gave to the Sicilian the 8th place Overall. In the General Classification Adamo is now back in 6th place.
In MXGP Alberto made a good performance in Free Practice as he finished in P8. At the end of Timed Practice the rider from Veneto confirmed his competitiveness on the deep Belgian sand as he stayed in the "top 10", in P9. Forato's Qualifying Race, though, was heavily conditioned by a mistake that he made during lap 1, which made him move back a lot of places after that he had a good start inside the "top 20". Alberto then finished in P19. On Sunday Alberto controlled the damages. He was forced to recover while not having a "top" performance with his physical shape, and he finished both races inside the points-area, as he ended in 18th position both races. He gained 6 points and he finished in P19 Overall; he lost a position in the General Classification and he is now in 15th place.
The 15th round of the FIM Motocross World Championship is scheduled on the weekend of the 6th and the 7th of August at Udevalla circuit, in Sweden. The EMX250 riders will be there too once again for their 8th round of the Championship.
Federico Tuani #3: "This weekend went very well. In Free and Timed Practices I made good lap times and I had a good feeling with the bike and the track. In Race 1 I had a good start but I struggled to find some good pace, and I finished 15th. It was a pity, considering that I could have made a better result. In Race 2, instead, after another good start I decided not to leave the leaders straight away and I finished in P10. After all, the 11th place Overall is a good result on the sand of Lommel. I'm happy because good results are coming, after all the hard work that we made in the past month. I want to thank my Team, my family and Jacky Vimond."
Andrea Adamo # 80: "It was a good race. I'm happy because I knew it wasn't going to be easy. Unfortunately in race 1 a contact on the first lap forced me to recover from the last position. In race 2, on the other hand, I had a good pace and finished 6th. "
Alberto Forato # 303: "It certainly wasn't one of my best weekends. I knew it was going to be tough and in fact I struggled with my recent injury and little training behind me. On Saturday I crashed in the qualifying heat and also on Sunday, during the race, there was no shortage of mistakes. Now there is a week's break before the test in Sweden and I will try to improve my preparation. "