Nicholas Lapucci ottiene un ottimo secondo posto assoluto nell'inferno di sabbia di Oss Il secondo appuntamento con il Campionato Europeo EMX250 si è svolto sulla pista di Oss in Olanda, il tracciato di sabbia non ospita un Gp dal lontano 1998.
Fantic Factory Maddii team press 
Pista molto difficile con una tipo di sabbia molto particolare che ha alzato il livello di questa gara. Nelle qualifiche Nicholas Lapucci è stato bravissimo a sfruttare i primi minuti delle prove per far segnare il miglior tempo assoluto dei due gruppi portandosi a casa la pole position. Federico Tuani ottiene un buon risultato con il 13° tempo del suo gruppo, Max Spies aveva trovato un buon tempo per qualificarsi per le due manche ma a causa di un presunto salto in regine di bandiere gialle è stato squalificato rimanendo estromesso dalle due manche.
Al via della prima manche Lapucci è stato un fulmine in sella alla sua Fantic 250 XX prendendo subito la testa della corsa e con un ritmo incredibile ha vinto la manche. Buona la prestazione di Tuani grazie ad un buon ritmo dopo una partenza non facile è conquistato il 13° posto.
In gara 2 Nicholas non riesce a portarsi in testa alla prima curva e nel corso del primo giro per non colpire un avversario finito a terra ha dovuto commettere un errore che gli ha fatto perdere diverse posizioni. Lapucci non si è perso d'animo e con un ritmo incredibile e una grandissima rimonta ha chiuso al terzo posto. Federico Tuani ha commesso qualche errore di troppo che non gli ha dato la possibilità di fare meglio della 17° posizione.
Grazie ai due risultati Nicholas Lapucci si porta a casa il secondo posto assoluto e aumento il vantaggio in classifica.
Prossimo appuntamento con l'Europeo EMX250 a Lommel ad inizio Agosto.
Marco Maddii commenta così la gara: "Siamo contenti di questa giornata perché abbiamo aumentato il vantaggio in classifica, sapevamo che le gare sulla sabbia potevano essere difficili invece Nicholas ha guidato in maniera impeccabile ed ha vinto gara 1 e la seconda aveva il passo per stare davanti. Federico ha fatto due buone manche, peccato per Spies che lo hanno squalificato per un presunto salto con le bandiere gialle. Il prossimo fine settimana saremo a Loket con il Campionato Europeo 2T con Federico e Max e possiamo fare bene, Nicholas rimarrà in Belgio per preparare la gara di Lommel."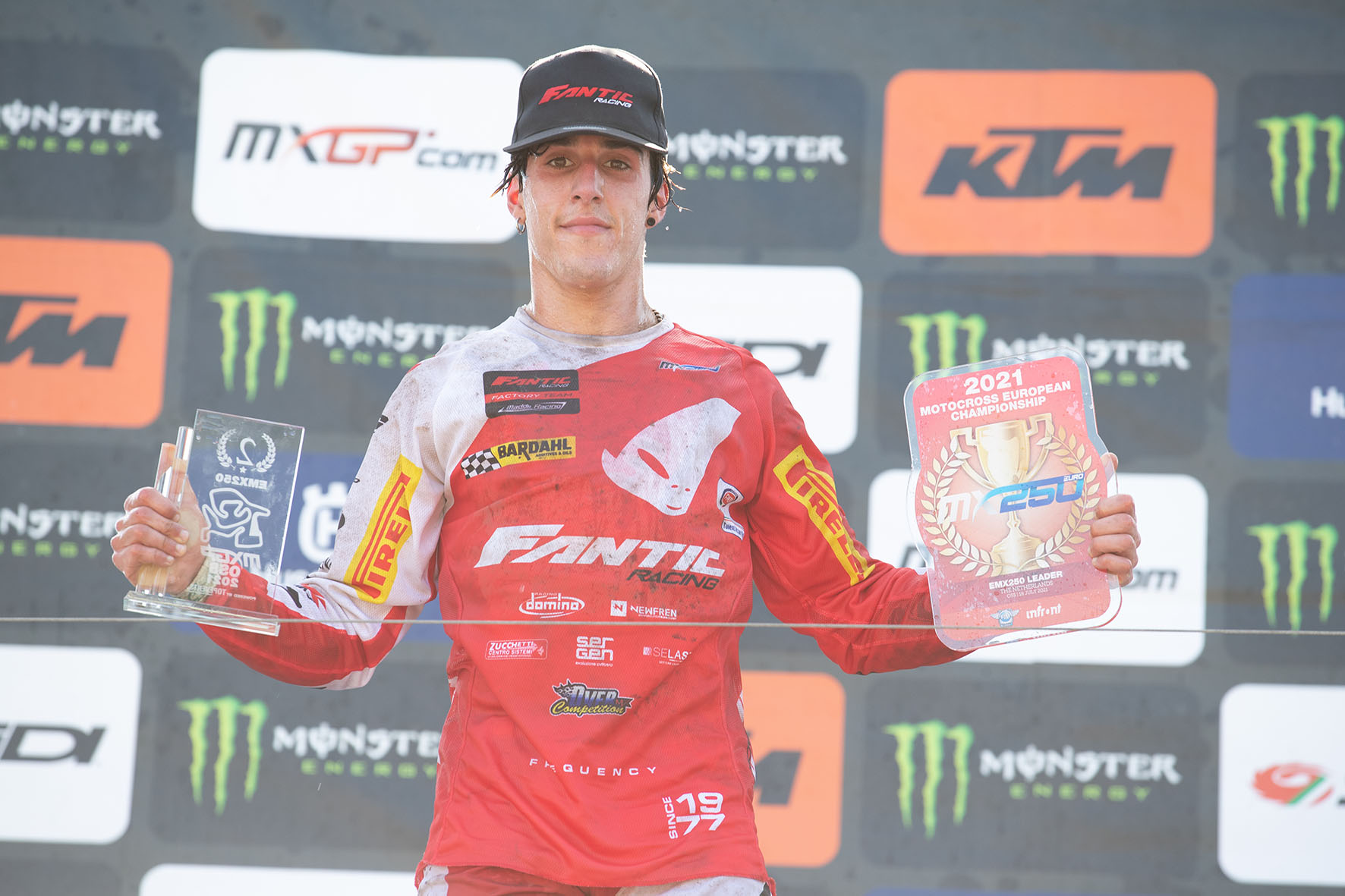 ENGLISH VERSION
EMX250 European Championship Round 2 – The Netherlands – 17.07.2021
Nicholas Lapucci classified second overall on the infernal sand of Oss
The second appointment with the EMX250 European Championship was disputed in the Netherlands, at the track of Oss. The last time action went down in Oss was in 1998. The Dutch track is an extremely challenging one, due to a very particular sandy type of ground, which increased the complexity of the race.
Nicholas Lapucci did an outstanding job in the qualifying. The rider took advantage of the very first minutes to set the fastest time of both groups, so he conquered the pole position. Federico Tuani got a satisfying result with the 13th best time of his group. Max Spies' rhythm was also promising, but unfortunately the rider was disqualified from both sessions as he apparently jumped while yellow flags were being displayed.
Lapucci pulled away as fast as he could at the start of the first moto and rode his Fantic 250 XX to the head of the pack. His incredible race pace was perfect enough for him to conquer the victory. Tuani's performance was particularly good too and despite a tough start he could reach the 13th place thanks to a solid pace.
Race2 was different from the previous one. Nicholas was not able to take the lead at the first corner and during the first lap also made a mistake, to avoid a rival who crashed; this cost him several positions. Despite the situation, Lapucci worked his way up and classified third. Mistakes were pricey also for Federico Tuani, who could not do any better than the 17th spot.
Today's results were enough for Nicholas Lapucci to classify second overall and also useful to strengthen his position in the standings.
Next appointment with the EMX250 is scheduled at the beginning of August, in Lommel.
Marco Maddii stated: "We're happy with today's results because we could strengthen our position in the Championship standings. We knew that riding on sandy tracks could have been challenging, but actually Nicholas was flawless and triumphed in Race1, while he also had the right rhythm for the second moto. Federico's performance was also good; too bad for Spies who was disqualified for an alleged jump while yellow flags were displayed. Next week we'll be in Loket with Federico and Max for the European Championship. I think we can get good results there. On the other hand, Nicholas will remain in Belgium to train before Lommel".
Classifica di giornata classe EMX2 Campioanto Europeo:
1) Rick Elzinga #44 – Ktm
2) Nicholas LAPUCCI #211 – Fantic Factory Team Maddii
3) Liam Everts #72 – Ktm
14) Federico Tuani #2 – Fantic Factory Team Maddii
Campionato classe EMX2:
1) Nicholas LAPUCCI #211 – Fantic Factory Team Maddii
2) Kevin Horgmo #24 – GasGas
3) Andrea Bonacorsi #35 – Yamaha
16) Maximilian Spies #7 – Fantic Factory Team Maddii
21) Federico Tuani #2 – Fantic Factory Team Maddii