COOPER WEBB VINCE AD OAKLAND!! CIANCIARULO FA SUA LA SX250!!
OAKLAND, California, (27 gennaio 2019) In un emozionante Monster Energy AMA Supercross, una stagione del Campionato Mondiale FIM che non ha visto nessuno dei favoriti pre-campionato vincere, la Red Bull KTM di Cooper Webb diventa il primo pilota a ripetere un vittoria, questa volta al Coliseum della contea di Oakland-Alameda in una notte che ha regalato cielo sereno e un finale pungente davanti a 47.224 tifosi.
Webb ha colto la vittoria con meno di un secondo sul compagno di squadra Marvin Musquin, e in tal modo è diventato l'undicesimo pilota nella storia di Monster Energy Supercross a sostenere una prima vittoria della 450SX Class con un'altra vittoria. KTM ha completato il podio con il terzo posto di Blake Baggett del Team Rocky Mountain ATV / MC KTM WPS. La 250SX Class ha anche visto il primo doppio vincitore dell'anno, con l'Adam Cianciarulo di Monster Energy / Pro Circuit Kawasaki , eguagliando così la sua prestazione di due settimane fa.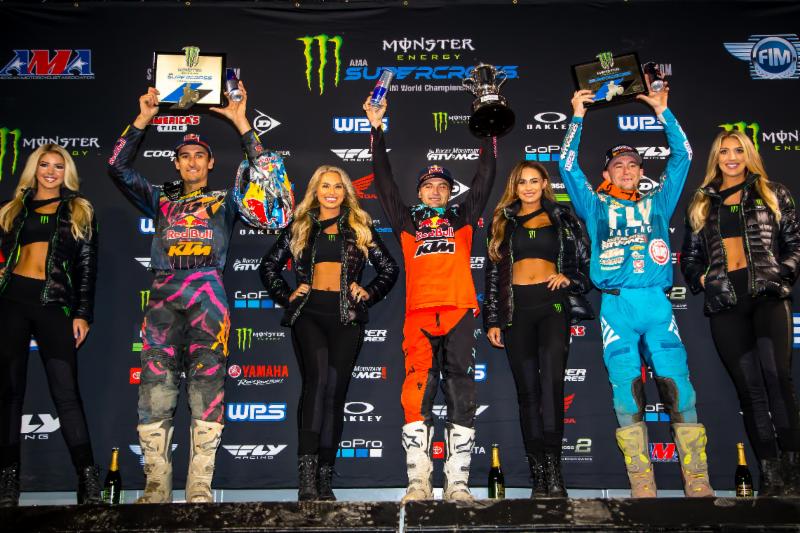 Dalla caduta del cancello nel Main Event della 450SX Cooper Webb ha preso il comando. Ha continuato a guidare ogni giro come aveva fatto prima, eppure è stata solo la sua seconda vittoria nella classe regina. Justin Bogle del Team Rocky Mountain ATV / MC KTM WPS era dietro, ma Musquin ha passato Bogle ed ha cercato la sfida con il suo compagno di squadra Webb. Il debuttante della Yamaha Factory Racing Aaron Plessinger ha tenuto la scia per il quarto posto il compagno Joey Savatgy di Monster Energy Kawasaki, mentre Ken Roczen del Team Honda HRC ha messo gli occhi su entrambi i piloti. Affamato per la sua prima vittoria nel 2019, sperava di poter iniziare un'altra delle sue leggendarie serie di vittorie, mentre Eli Tomac di Monster Energy Kawasaki ha fatto un ritmo costante sin dal primo giro.
Musquin non ha perso tempo a premere per la sua prima vittoria del 2019, ma non è riuscito a chiudere il distacco dal suo compagno di squadra. Dopo cinque minuti di gara i due erano separati da poco più di un secondo; è allora che Musquin ha fatto un tentativo. Ha lasciato il distacco a 0,7 secondi, mentre dietro di loro Roczen e Tomac erano entrambi in costante rimonta nel gruppo.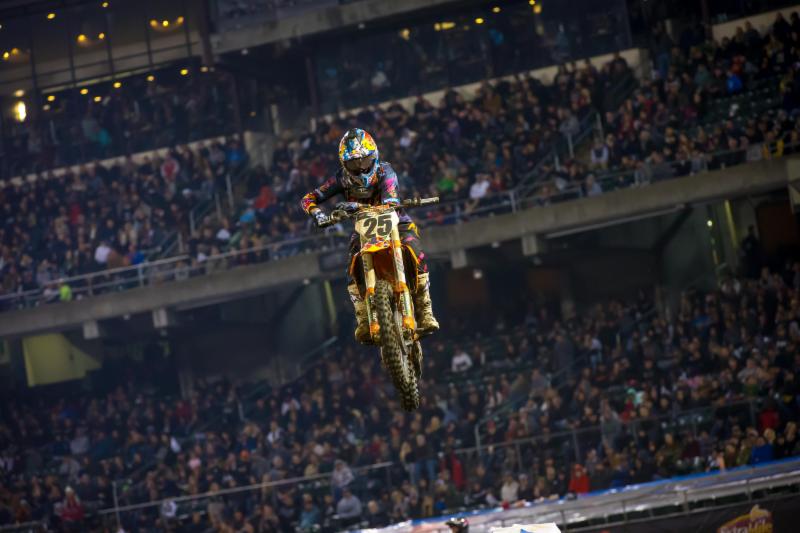 A circa metà dei 20 minuti più un giro della gara, Musquin è andato a terra. Mentre rimontava la battaglia tra Savatgy, Roczen e Tomac lo hanno rallentato. Musquin ha perso due posizioni nel gruppo. Poi Savatgy ha avuto quello che è sembrato un problema meccanico che lo ha portato fuori gara. Musquin ha trovato il suo ritmo e passato al secondo posto ha messo gli occhi su Webb. Quando il cronometro ha raggiunto lo zero e rimaneva solo un giro, Musquin è rimasto indietro di 2,5 secondi, ma Webb è rimasto composto e agile e ha mantenuto il comando per vincere la sua seconda vittoria al Main Event della 450SX Class della sua carriera.
"Non riesco quasi a crederci, voglio dire, sono stato bravo oggi, ma non ero tipo lo scorso fine settimana, non mi arrendo mai, metto giù la testa e ho ricevuto un regalo da Marv che poi mi ha raggiunto alla fine, ero così nervoso, non so perché nessuno mi ha detto che il secondo è più duro del primo. il piatto rosso … È davvero fantastico … mi sento come se tutto, in questi ultimi due anni non valesse nulla, e tornare in cima è fantastico. " ha detto Webb dopo la gara, riferendosi ai suoi due anni precedenti nella 450SX Class.
A proposito del suo incidente di metà gara, Musquin ha detto: "Penso di essermi rilassato troppo, è stato intenso, fisicamente è difficile, sto migliorando decisamente [da un infortunio al ginocchio pre-campionato]. Sto migliorando sempre di più ma è stato difficile, quella pista è stata sicuramente difficile per tutti e specialmente in certi tratti, ma l'ho capito nel Main e sono riuscito a superare alcuni ragazzi e, sì, è frustrante. Comunque sono davvero felice, voglio dire, poteva essere mio, sai, stasera, ma succede, quindi non ho scuse, sono andato giù, ma sono stato il più veloce, per poter passare Tomac indietro, e Roczen, non so se Roczen ha avuto un problema nel whoops o qualcosa del genere, ma sono stato in grado di affrontarli più facilmente ed ero anche più coerente. Anche Baggett era dietro di me e molto veloce, ma sono un un po 'stanco, finire dietro a Cooper non è divertente ma sto facendo progressi, il secondo posto è buono, sono tanti punti, ma voglio vincere di sicuro "
In risposta al raggiungimento del podio dopo un 17 ° posto, Baggett ha dichiarato: "Sì, non è stato un buon inizio, sono scattato male fuori dal cancello, ma è quello che è, ho combattuto Mi sentivo benissimo nel mezzo della gara e alla fine mi sono ritrovato un po 'fuori, un po' perso il mio ritmo "
Anche il Main Event della 250SX Class ha avuto un vincitore che ha mantenuto il comando fin dall'inizio. E' stato Cianciarulo a tenere il passo di testa mentre era Monster Energy / Star Racing / Yamaha Colt Nichols, TLD / Red Bull KTM Shane McElrath, e Monster Energy / Star Racing / Yamaha Dylan Ferrandis che hanno messo pressione. Cianciarulo, che ha lavorato per aumentare il suo vantaggio per evitare la bagarre, ha cercato di spingere un pò troppo forte nei primi giri, causando alcuni errori che hanno tenuto vicini i suoi inseguitori. Ben però ha ottenuto un vantaggio per guidare più rilassato. Nel frattempo, Ferrandis stava arrivando duro dall'11 ° posto e alla fine della gara ha preso contatto con il suo compagno di squadra Nichols per passare poi in seconda posizione. Ferrandis ha portato il vantaggio a meno di un secondo su Cianciarulo, ma un errore in un triplo ha dato a Cianciarulo abbastanza spazio per portare a casa la vittoria senza troppa pressione sulla bandiera a scacchi.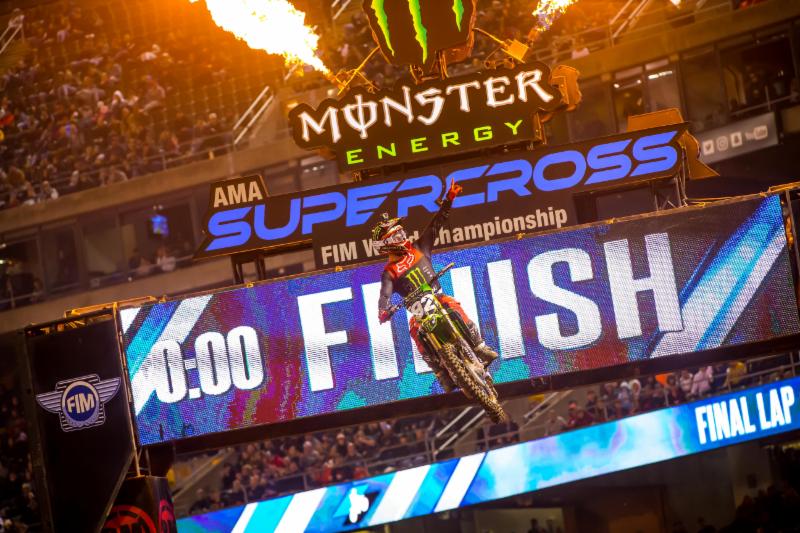 Cianciarulo ha ammesso alle telecamere NBC Sports che era esausto dopo la gara. "Sono così orgoglioso di me oggi, la mia squadra, me stesso, le persone mi conoscono e sanno che sono bravo in quelle piste più difficili, ma notoriamente ho lottato per quanto riguarda i solchi. Non ero carina, ero in tutto il posto nel whoops, spero che voi ragazzi non abbiate ottenuto troppi colpi su di me mentre la pista era fisicamente dura, fisicamente impegnativa, e questi ragazzi mi hanno respirato il collo per tutto il tempo. " Ha ammesso ai suoi fan e agli annunciatori della trasmissione che sta lavorando per calmarsi e appianare, "Dobbiamo continuare così, devo essere coerente, intelligente, lo so ragazzi, so che devo calmarmi un po ', quindi proveremo a portare questo slancio a San Diego ".
Ferrandis è pronto per una vittoria in questa stagione ed è stato deluso dal tornare così indietro nel gruppo e avvicinarsi così tanto alla prima vittoria del 2019, ma non riuscire a fare il passaggio finale. Il francese ha detto, riferendosi a un incidente di pista di metà settimana, "È un po 'frustrante finire di nuovo secondo, ma voglio dire, ho fatto una buona gara … Sono felice di essere tornato da dietro. rivali e guadagnato punti sulla leadership [board], quindi è importante, ma [ho avuto alcuni problemi all'inizio di questa settimana, quindi non ero sicuro di poter correre stasera, ma mi sentivo bene e forte e il prossimo fine settimana a San Diego vedrò."
Colt Nichols, il leader dei punti dal primo round, ha mantenuto il comando del campionato con un terzo posto, duplicando il suo finale dal round precedente, "È sempre difficile: una volta vinto, ottieni quel sapore di vittoria e basta. Ma nel complesso non posso lamentarmi, sono di nuovo sul podio, mi sono appena sentito come se mi lasciassi sfuggire in quel Main Event. Stavo facendo pressioni su Adam davvero bene e poi su alcuni dei miei piccoli errori e Dylan è stato in grado di catturarmi e di sorpassarmi. Un saluto affettuoso a questi due ragazzi, questo tracciato era molto, molto impegnativo e con una frequenza cardiaca molto alta. Era dura e mi sono appena accasciato un po '. "
Monster Energy Supercross viaggia a sud il prossimo fine settimana per la sosta finale in California per questa stagione alla quinta tappa al Petco Park di San Diego.
Questa la versione originale del comunicato.
Cooper Webb First 450SX Class Repeat Winner of 2019 and New Points Leader
Adam Cianciarulo Also Repeats in 250SX Class and Moves into Second in Points
OAKLAND, Calif., (January 27, 2019) In an exciting Monster Energy AMA Supercross, an FIM World Championship season that's seen none of the pre-season favorites yet take a victory, Red Bull KTM's Cooper Webb becomes the first rider to repeat a win, this time at the Oakland-Alameda County Coliseum on a night that provided clear skies and a nail biting finish in front of 47,024 fans. Webb squeaked out the win less than a second ahead of teammate Marvin Musquin, and in doing so became only the 11th rider in Monster Energy Supercross history to back up a first 450SX Class win with another win. KTM rounded out the podium with third place going to Team Rocky Mountain ATV/MC KTM WPS' Blake Baggett. The 250SX Class also saw the year's first repeat winner, with Monster Energy/Pro Circuit Kawasaki's Adam Cianciarulo taking his second win, matching his performance from two weeks ago.
KTM had a clean sweep of the podium with Cooper Webb (middle) taking first, Marvin Musquin (Left) second and Blake Baggett (right) taking third. Photo Credit: Feld Entertainment, Inc.
From the drop of the gate in the 450SX Class Main Event it was Cooper Webb out front. He went on to lead every lap like he'd done it before, yet it was only his second win in the premier class. Team Rocky Mountain ATV/MC KTM WPS' Justin Bogle was right behind, but Musquin was almost immediately past Bogle and taking up the challenge with his teammate Webb. Monster Energy Yamaha Factory Racing's rookie Aaron Plessinger held off fellow rookie Monster Energy Kawasaki's Joey Savatgy for fourth place while Team Honda HRC's Ken Roczen set his sights on both riders. Hungry for his first win in 2019 to hopefully jump start another of his legendary win streaks, Monster Energy Kawasaki's Eli Tomac circled mid pack for the first lap.
Cooper Webb wins back to back weeks in the 450SX Class and claims the red plate from Ken Roczen. Photo Credit: Feld Entertainment, Inc.
Musquin wasted no time pressing to get into position to pass to get his first win of 2019, but he could not close within striking distance of his teammate. After five minutes of racing the two were separated by just over one second; that's when Musquin made a push. He dropped the gap to .7 seconds while behind them Roczen and Tomac were each on a steady climb through the pack.
Marvin Musquin riding to form after a slow start to the season. Photo Credit: Feld Entertainment, Inc.
At about the mid-point of the 20 minute plus one lap race, Musquin went down. As he remounted the battle between Savatgy, Roczen, and Tomac caught him. Musquin lost two positions to the group. Then Savatgy had what appeared to be a mechanical issue that took him out of the race. Musquin found his pace and passed back into second and set his sights on Webb. When the race clock reached zero and there was only one lap remaining, Musquin was over 2.5 seconds behind. He charged to within .7 seconds, but Webb remained composed and smooth and held the lead to take his second 450SX Class Main Event win of his career.
"I almost can't believe it. I mean, I was good today, but I wasn't anything like last weekend. It just shows, you never give up, you put your head down, and I definitely got a gift from Marv, his crashing, and he caught me at the end. I was so nervous. I don't know why no one told me the second one's harder than the first. But man, it's honestly insane. Back to back, I guess I got the red plate… It's pretty frickin' awesome… I feel like everything, these last two years not being worth a crap, and to get back on top is awesome." Cooper said after the race, referring to his two previous years in the 450SX Class.
About his mid race crash, Musquin said, "I think I relaxed too much. It was intense. Physically it's tough out there, I'm definitely getting better [from a pre-season knee injury]. I was able to ride all week. I'm getting better and better but that was tough. That track was definitely difficult for everyone and especially those whoops, but I figured it out in the Main and I was able to pass some guys and, yeah, it's frustrating. I rode really well and I'm really happy. I mean, it could have been mine, you know, tonight, but it happens. So, no excuses. I went down, but I was the fastest, to be able to pass Tomac back, and Roczen, I don't know if Roczen had an issue in the whoops or something, but I was able to get through them easier and I was more consistent too. Baggett was behind me and pretty fast, too, but I'm a little bit bummed. Finishing a little bit behind Cooper is not fun but I'm making progress. Second place is good, it's a lot of points, but I want to win for sure"
In response to reaching the podium after a 17th place start, Baggett said, "Yeah it was not a good start. I got wheel spin right outside the gate, just didn't execute it right. But it is what it is, I fought my way through. I was feeling great in the middle of the race and just ran out a little in the end, just kind of lost my mojo."
The 250SX Class Main Event also had a winner who held the lead from the beginning, also had plenty of action and challenges for the lead and awarded the win to the first repeat winner of the year. This time it was Cianciarulo setting the lead pace while it was Monster Energy/Star Racing/Yamaha's Colt Nichols, TLD/Red Bull KTM's Shane McElrath, and Monster Energy/Star Racing/Yamaha's Dylan Ferrandis who put on the charges. Cianciarulo, who has been working on smoothing out his riding and not getting ahead of himself while in the heat of battle, looked to be pushing a little too hard in the early laps, causing a few bobbles that kept his pursuers close. He soon smoothed out and got a cushion to ride more relaxed. Meanwhile, Ferrandis was charging hard from 11th place and late in the race made contact with his teammate Nichols for the pass into second. Ferrandis got the lead down to under a second on Cianciarulo, but a mistake that forced him to double jump a triple gave Cianciarulo enough of a gap to bring home the win without too much pressure at the checkered flag.
Adam Cianciarulo claims his second victory of the season in the Western Regional 250SX Class Championship. Photo Credit: Feld Entertainment, Inc.
Cianciarulo admitted to the NBC Sports cameras he was exhausted after the race. "I'm so proud of myself today. My team, myself. People know me, and they know I'm good in those harder [packed dirt] tracks but notoriously I've struggled when it comes to ruts. Man, it was not pretty. I was all over the place in the whoops, hopefully you guys didn't get too many shots of me going through there. The track was physically tough, physically demanding, and these guys were breathing down my neck the whole time." He admitted to his fans and the broadcast announcers that he's working on calming down and smoothing out, "We gotta keep it up, gotta keep it consistent, smart. I know guys, I know I've got to calm down a little bit, so we'll try to bring this momentum into San Diego."
Ferrandis is ready for a win this season and he was disappointed to come from so far back in the pack and get so close to that first win of 2019 yet not manage to make the final pass. The Frenchman said, referencing a mid-week practice track crash, "It's a little frustrating to finish second again but I mean, I did a good race… I'm happy I came back from behind. I passed some of my main rivals and gained points on the leadership [board], so that's important. But [I had] some issues early this week, so I wasn't sure I could race tonight but I felt good and strong and next weekend in San Diego we'll see."
Colt Nichols, the points leader since round one, held onto that championship lead with a third- place finish, duplicating his finish from the previous round, "It's always tough. Once you win you get that taste of victory and that's all you want. But overall, I can't complain. I'm on the podium again, I just felt like I kind of let it slip away in that Main Event. I was pressuring Adam really good and then a few of my own little mistakes and Dylan was able to catch me and pass me. Hats off to these two guys, this track was very, very demanding and a very high heart rate track. It was tough and I just kind of fell off a little bit, and that's on me."
Monster Energy Supercross travels south next weekend for its final stop in California for this season at round five at Petco Park in San Diego.
For the latest media highlights, please click the links below:
450SX Class Video Highlights
250SX Class Video Highlights
450SX Class Results
1. Cooper Webb, Newport, N.C., KTM
2. Marvin Musquin, Corona, Calif., KTM
3. Blake Baggett, Grand Terrace, Calif., KTM
4. Eli Tomac, Cortez, Colo., Kawasaki
5. Ken Roczen, Clermont, Fla., Honda
6. Dean Wilson, Clermont, Fla., Husqvarna
7. Justin Barcia, Greenville, Fla., Yamaha
8. Justin Brayton, Mint Hill, N.C., Honda
9. Chad Reed, Dade City, Fla., Suzuki
10. Justin Bogle, Cushing, Okla., KTM
450SX Class Championship Standings
1. Cooper Webb, Newport, N.C., KTM (83)
2. Ken Roczen, Clermont, Fla., Honda (81)
3. Eli Tomac, Cortez, Colo., Kawasaki (80)
4. Marvin Musquin, Corona, Calif., KTM (79)
5. Justin Barcia, Greenville, Fla., Yamaha (72)
6. Dean Wilson, Clermont, Fla., Husqvarna (69)
7. Blake Baggett, Grand Terrace, Calif., KTM (66)
8. Cole Seely, Sherman Oaks, Calif., Honda (56)
9. Justin Brayton, Mint Hill, N.C., Honda (52)
10. Aaron Plessinger, Hamilton, Ohio, Yamaha (49)
Western Regional 250SX Class Results
1. Adam Cianciarulo, New Smyrna Beach, Fla., Kawasaki
2. Dylan Ferrandis, Murrieta, Calif., Yamaha
3. Colt Nichols, Muskogee, Okla., Yamaha
4. Shane McElrath, Canton, N.C., KTM
5. Jacob Hayes, Greensboro, N.C., Yamaha
6. Cameron McAdoo, Chesterfield, S.C., Honda
7. Michael Mosiman, Menifee, Calif., Husqvarna
8. Garrett Marchbanks, Coalville, Utah, Kawasaki
9. Chris Blose, Phoenix, Ariz., Husqvarna
10. Sean Cantrell, Murrieta, Calif., KTM
Western Regional 250SX Class Championship Standings
1. Colt Nichols, Muskogee, Okla., Yamaha (91)
2. Adam Cianciarulo, New Smyrna Beach, Fla., Kawasaki (88)
3. Shane McElrath, Canton, N.C., KTM (87)
4. Dylan Ferrandis, Murrieta, Calif., Yamaha (86)
5. RJ Hampshire, Wesley Chapel, Fla., Honda (67)
6. Cameron McAdoo, Chesterfield, S.C., Honda (58)
7. Chris Blose, Phoenix, Ariz., Husqvarna (58)
8. Jacob Hayes, Greensboro, N.C., Yamaha (55)
9. Michael Mosiman, Menifee, Calif., Husqvarna (55)
10. Jimmy Decotis, Peabody, Mass., Suzuki (52)