COOPER WEBB E SHANE MC ELRATH VINCONO IL TRIPLE CROWN 2019 DI ANAHEIM 2
ANAHEIM, California, 20 Gennao 2019 – Il terzo atto del Monster Energy AMA Supercross, FIM World Championship, si è chiuso con il primo Triple Crown dell'anno, ogni classe ha avuto tre main event per decretare il vincitore dell'assoluta di giornata.
Nella classe 450SX, Cooper Webb della Red Bull KTM ha combattuto con Ken Roczen della Honda HRC per tutta la gara fino a quando Roczen ha sbagliato in una sezione ritmica nell'ultimo giro, consegnando a Webb la sua prima vittoria del Main Event della classe 450SX davanti a 42.434 fan. Roczen è giunto secondo davanti al compagno di squadra di Webb Marvin Musquin, Eli Tomac della Monster Energy Kawasaki, quinto il compagno di squadra di Roczen Cole Seely, sesto il campione 2018 del Rockstar Energy Husqvarna Jason Anderson e poi il vincitore del primo round Justin Barcia (Monster Energy / Yamaha Factory Racing).
Nel secondo Main Event, Webb ha effettuato l'holeshot e ha guidato ogni giro segnando la sua seconda vittoria nella serata, controllando il compagno di squadra Musquin fino al traguardo, con Barcia terzo, Tomac quarto e Roczen quinto. Entrando nel Main Event finale, Webb era avanti al suo compagno di squadra Musquin di tre punti, il che significava che aveva solo bisogno di finire al quarto posto per vincere la classifica generale.
Tomac ha guidato il gruppo per ogni giro del Main Event finale, mentre Webb ha guidato in modo conservativo per segnare il terzo posto, proprio dietro Musquin e davanti a Roczen.
"Lo scorso fine settimana, con un decimo posto, ero molto arrabbiato" ha detto Webb dopo aver vinto il suo primo Main Event della classe 450SX. "Non era quello che volevo, quindi ho voluto riscattarmi questa settimana, ma vincere è un sogno, vincere due gare e salire sul podio nell'altra, ero così nervoso nell'ultimo main…. è stato incredibile. "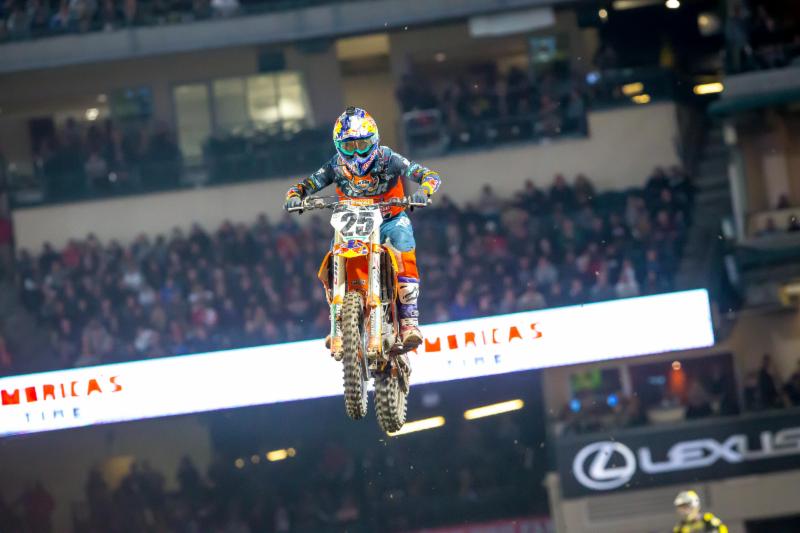 Il compagno di squadra di Webb Musquin ha segnato un 3-2-2 nella notte per agguantare il secondo posto assoluto, dando alla squadra Red Bull KTM una doppietta di classe, nonostante un infortunio al ginocchio che Musquin ha patito ad inizio stagione.
"Vivo gara per gara", ha detto Musquin. "Questa settimana sono rimasto in California, il tempo era piuttosto brutto, ma ho tolto per l'intera settimana la moto cercando di non fare troppo male al ginocchio".
Tomac è arrivato terzo nella serata con un punteggio di 4-4-1.
"In gara uno e due, ero come in prova, è quello che mi sentivo," ha detto Tomac. "Non stavo attaccando, non avevo il mio ritmo, e poi il terzo ovviamente ho ottenuto l'holeshot, è stato molto più semplice vincere"
Justin Barcia del team Monster Energy Yamaha Factory Racing, che ha vinto Anaheim 1 due settimane fa, ha avuto un brutto incidente nel terzo Main Event della 450SX Class della notte e ha dovuto essere trasportato all'Alpinestars Medical Center.
Ken Roczen (Honda HRC) è ancora in testa alla classifica ha due punti su Tomac mentre la serie si dirige a Oakland tra una settimana. Il vincitore di questa sera Webb è terzo, a quattro punti da Tomac.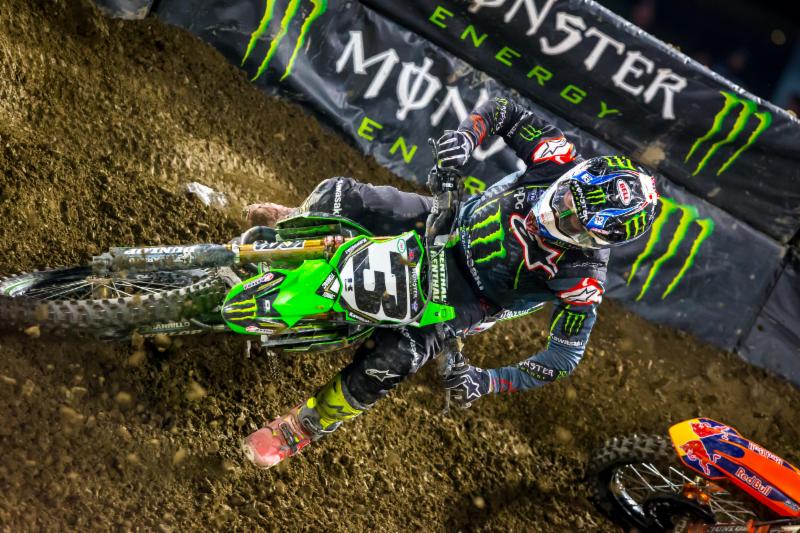 Nella classe 250SX, Monster Energy / Star Racing / il leader dei punti Yamaha Colt Nichols è uscito a fuoco nel primo Main Event, inseguendo Adam Cianciarulo su Monster Energy / Pro Circuit Kawasaki per i primi giri prima che Cianciarulo cadesse, consegnando Nichols la guida del gruppo. Nichols ha continuato a controllare il suo compagno di squadra Dylan Ferrandis, Shane McElrath, Cianciarulo di TLD / Red Bull KTM e RJ Hampshire di GEICO Honda lo hanno terminato dietro ai due piloti Yamaha.
Nel secondo Main Event, Nichols ha condotto da subito ma è caduto quando il suo compagno di squadra Ferrandis lo ha attaccato per il comando. Nichols ha rimontato dietro Ferrandis e McElrath, che hanno finito per andare primo e secondo nel main, mentre Nichols si è piazzato terzo davanti al compagno di squadra dell'Hampshire e dell'Hampshire Cameron McAdoo.
Poi, nell'ultimo Main Event della 250SX Class della serata, Cianciarulo ha mantenuto il vantaggio iniziale prima che McElrath si facesse sotto a lui per prendere il comando, poi l'ha passato andando a vincere su Cianciarulo e Ferrandis. Nichols è arrivato al secondo posto ma è finito quarto nel terzo Main Event.
Dopo due terzi posti consecutivi nei primi due turni del campionato 2019, il punteggio 3-2-1 di McElrath ha portato alla sua prima vittoria della stagione 250SX.
"Sto solo imparando gara dopo gara e così farò per tutta la stagione", ha detto McElrath spiegando cosa è cambiato per lui dai primi due round. "Abbiamo avuto un buon pre stagione, ma non si può davvero fare un setup della moto senza andare in gara, quindi è proprio quello con cui abbiamo lottato. Questo è davvero quello che cercavamo, ora ci siamo!"
Un punteggio di 2-1-3 per Ferrandis lo ha messo a pari punti con McElrath, ma il tie-break va al miglior risultato nella gara finale della serata, quindi Ferrandis è stato costretto ad accontentarsi del secondo posto.
"Ho guidato male", ha detto Ferrandis. "Non meritavo di vincere stasera, Shane [McElrath] ha guidato molto bene e ha vinto, quindi congratulazioni a lui, sono davvero frustrato con me stesso, non è il risultato che volevo, vedremo il prossimo weekend. Cercheremo di fare un passo avanti, sono davvero scontento e molto deluso, quindi vedremo di vincere ".
Nichols ha concluso la serata al terzo posto assoluto con un punteggio di 1-3-4, ma è ancora in testa alla classifica mentre la serie si dirige verso il quarto round all'Oakland-Alameda County Coliseum il prossimo sabato sera.
"Voglio dire che è sempre bello tenere in mano la tabella rossa", ha detto Nichols. "Questo è l'obiettivo, nel primo main ho approfittato di un errore di Cinciarulo, nel secondo potevo fare meglio ma la testa qualche volta svalvola. Nella terza finale sono partito con l'holeshot, ma non ho tenuto il ritmo, guidavo un po' piatto ".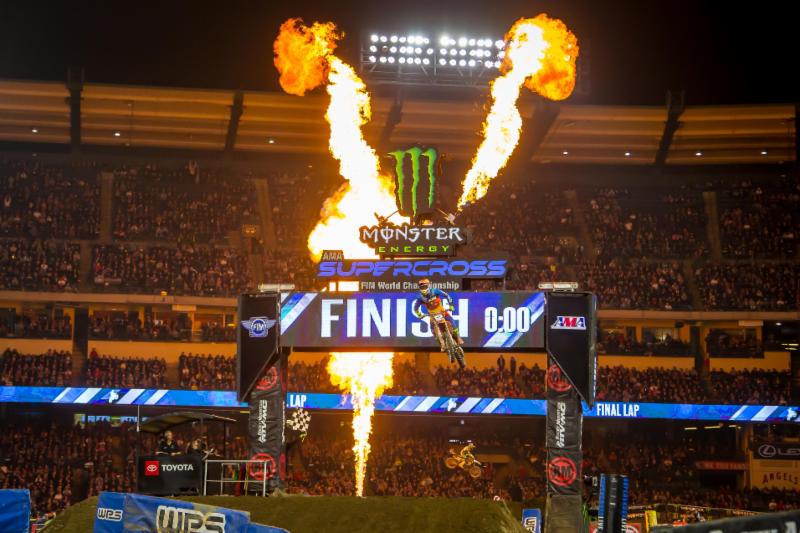 Questa la versione originale del comunicato:
ANAHEIM, Calif., (January 20, 2019) – Round three of the Monster Energy AMA Supercross series, an FIM World Championship, featured the first of three Triple Crown events, where instead of running qualifiers and then a single Main Event, each class runs three Main Events and the lowest overall score determines the winner.
In the 450SX Class, Red Bull KTM's Cooper Webb pressured Honda HRC's Ken Roczen throughout the race until Roczen messed up a rhythm section on the final lap, handing Webb his first-ever 450SX Class Main Event victory in front of 42,434 ecstatic fans. Roczen was second in front of Webb's teammate Marvin Musquin, Monster Energy Kawasaki's Eli Tomac, Roczen's teammate Cole Seely, Rockstar Energy Husqvarna's defending series champion Jason Anderson, and round-one winner Justin Barcia (Monster Energy/Yamaha Factory Racing).
In the second Main Event, Webb took the holeshot and led every lap to score his second win on the night, holding off teammate Musquin at the finish, with Barcia third, Tomac fourth, and Roczen fifth. Going into the final Main Event, Webb led his teammate Musquin by three points, which meant he only needed to finish fourth place or better to win the overall. Tomac ended up leading every lap of the final Main Event while Webb rode relatively conservatively to score third, just behind Musquin and in front of Roczen.
"Last weekend, I was 10th, and I was pissed off, man," Webb said after winning his first-ever 450SX Class Main Event. "That wasn't what I wanted. So, I had some redemption this week, but to win is insane. To win two races and be on the podium in that one. I was so nervous that last one, just trying to hold on. But it's incredible."
Webb's teammate Musquin went 3-2-2 on the night to score second overall, giving the Red Bull KTM team a 1-2 sweep of the class, despite a knee injury Musquin's been fighting since the off-season.
"I just go race by race," Musquin said. "This week, I stayed in California. The weather was pretty bad, but I took the whole week off the bike and tried to not hurt the knee too much on the bike."
Tomac ended up third on the night with a 4-4-1 score.
"[Race] one and two, I was just kind of riding around, is what I felt like," Tomac said. "I wasn't attacking. I wasn't getting my flow. And then the third one there just obviously got the holeshot, was in clean air really…"
Monster Energy/Yamaha Factory Racing's Justin Barcia, who won Anaheim 1 two weeks ago, had a heavy crash in the final 450SX Class Main Event of the night and had to be carted off to the Alpinestars Medical Center.
Honda HRC's Ken Roczen still leads the points standings by two points over Tomac as the series heads to Oakland in one week's time. Tonight's winner Webb sits third, four points behind Tomac.
In the 250SX Class, Monster Energy/Star Racing/Yamaha's points leader Colt Nichols came out of the gate on fire in the first Main Event, chasing Monster Energy/Pro Circuit Kawasaki's Adam Cianciarulo for the first few laps before Cianciarulo went down, handing Nichols the lead. Nichols held on to win over his teammate Dylan Ferrandis, TLD/Red Bull KTM's Shane McElrath, Cianciarulo, and GEICO Honda's RJ Hampshire.
In the second Main Event, Nichols led early but fell over when his teammate Ferrandis pressured him for the lead. Nichols remounted behind Ferrandis and McElrath, who ended up going 1-2 in the main, while Nichols ended up third in front of Hampshire and Hampshire's teammate Cameron McAdoo.
Then, in the final 250SX Class Main Event of the night, Cianciarulo held the early lead before McElrath worked his way around him to take the lead, then sprinted off with the victory over Cianciarulo and Ferrandis. Nichols ran as high as second but ended up fourth in the third Main Event just in front of Hampshire.
After two consecutive third-place finishes in the opening two rounds of the 2019 championship, McElrath's 3-2-1 score landed him his first 250SX Class victory of the season.
"It's just learning throughout the season," McElrath said regarding what changed for him from the first two rounds. "We had a really good off-season, but you can't really do a bike setup without going to the races. So, that's really what we've been struggling with, and just my comfort. That's really what we've been searching for."
A 2-1-3 score for Ferrandis tied him on points with McElrath, but the tiebreaker goes to the highest finisher in the final race of the night, so Ferrandis was forced to settle for second.
"I rode bad," Ferrandis said. "I didn't deserve to win tonight. Shane [McElrath] rode really good and he won, so congrats to him. I'm really frustrated by myself. It's not the place I want to be. We'll see next weekend. We'll try to rebound. I'm really unhappy about myself and really disappointed, so we'll see."
Nichols ended the night third overall with a 1-3-4 score, but he still holds the points lead as the series heads to round four at the Oakland-Alameda County Coliseum this coming Saturday night.
"I mean that's always great, to hold onto the red plate," Nichols said. "That's kind of the goal. I kind of came out on fire that first one then was leading the second one and had a dumb little tip-over. Just my own mistake. Just a little brain fart if you will and just kind of tipped over. The third one I got the holeshot, started right where I needed to and just was a little flat."
450SX Class Results
1. Cooper Webb, Newport, N.C., KTM
2. Marvin Musquin, Corona, Calif., KTM
3. Eli Tomac, Cortez, Colo., Kawasaki
4. Ken Roczen, Clermont, Fla., Honda
5. Dean Wilson, Clermont, Fla., Husqvarna
6. Cole Seely, Sherman Oaks, Calif., Honda
7. Aaron Plessinger, Hamilton, Ohio, Yamaha
8. Joey Savatgy, Tallahassee, Fla., Kawasaki
9. Jason Anderson, Rio Rancho, N.M., Husqvarna
10. Justin Barcia, Greenville, Fla., Yamaha
450SX Class Championship Standings
1. Ken Roczen, Clermont, Fla., Honda (63)
2. Eli Tomac, Cortez, Colo., Kawasaki (61)
3. Cooper Webb, Newport, N.C., KTM (57)
4. Justin Barcia, Greenville, Fla., Yamaha (56)
5. Marvin Musquin, Corona, Calif., KTM (56)
6. Dean Wilson, Clermont, Fla., Husqvarna (52)
7. Jason Anderson, Rio Rancho, N.M., Husqvarna (46)
8. Blake Baggett, Grand Terrace, Calif., KTM (45)
9. Aaron Plessinger, Hamilton, Ohio, Yamaha (45)
10. Cole Seely, Sherman Oaks, Calif., Honda (44)
Western Regional 250SX Class Results
1. Shane McElrath, Canton, N.C., KTM
2. Dylan Ferrandis, Murrieta, Calif., Yamaha
3. Colt Nichols, Muskogee, Okla., Yamaha
4. RJ Hampshire, Wesley Chapel, Fla., Honda
5. Adam Cianciarulo, New Smyrna Beach, Fla., Kawasaki
6. Cameron McAdoo, Chesterfield, S.C., Honda
7. Jacob Hayes, Greensboro, N.C., Yamaha
8. Michael Mosiman, Menifee, Calif., Husqvarna
9. Chris Blose, Phoenix, Ariz., Husqvarna
10. Mitchell Harrison, Murrieta, Calif., Yamaha
Western Regional 250SX Class Championship Standings
1. Colt Nichols, Muskogee, Okla., Yamaha (70)
2. Shane McElrath, Canton, N.C., KTM (68)
3. Dylan Ferrandis, Murrieta, Calif., Yamaha (63)
4. Adam Cianciarulo, New Smyrna Beach, Fla., Kawasaki (62)
5. RJ Hampshire, Wesley Chapel, Fla., Honda (57)
6. Jimmy Decotis, Peabody, Mass., Suzuki (44)
7. Chris Blose, Phoenix, Ariz., Husqvarna (44)
8. Cameron McAdoo, Chesterfield, S.C., Honda (41)
9. Michael Mosiman, Menifee, Calif., Husqvarna (39)
10. Jacob Hayes, Greensboro, N.C., Yamaha (37)
Feld Entertainment